There are always two ways to every issue, and that why it is good to listen to both sides of an issue before making a final conclusion. The real truth has now been revealed of the viral CCTV footage of a woman, who was alleged to have jumped over the fence in order to escape from her husband who has requested her to submit her sim card.
The truth is now the woman was the sixth wife of a violent man who has been subjecting her to a long period of domestic violence.
According to a report by Stella Blog, the woman involved in the controversy has approached the blog to state her own side of the story, and she has been able to teuly prrove that there is another angle to the story.
The woman's name is Mojama Ugochukwu and she was said to have married the man as a sixth wife. She revealed that she walked out of the marriage in October 2021 as a result of serious domestic violence she experienced, which led her to resort into jumping over the fence to escape the hell she was facing in the husband's house.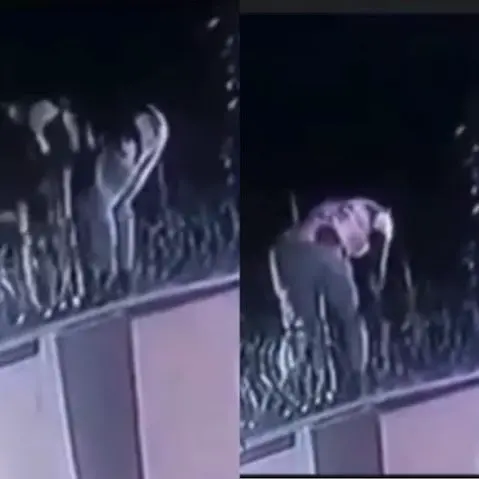 In a her letter to Stella Blog, she said,: "Stella, that man was my ex husband. I left him in October 2021 due to domestic violence, this was marriage from 13th Feb 2021. You can confirm from my Facebook page, Mojama Ogochukwu where I made a post of the dissolution of the marriage which was followed by a serious attack from him.
Right Now, he has refused to take back his dowry even though he quickly went to marry the lady in the viral video in December and she took the risk of leaving in January 2022. He is not a good man, as at the time I got married to him I learnt that I was the 6th wife. The others before me, left within 3months even some from his home town."
The man in question is originally married to a Switzerland-based woman, who supplies him with the money and wealth, only for him to enslave any other woman he gets married to here in Nigeria. The jumping girl was only one of the unfortunate and unsuspecting ladies the has man married here in Nigeria.
Click here to watch the video.
For More News, Kindly Join Our WhatsApp Group, Follow us on Instagram and Like our Facebook Page. You Can Also Follow Us On Twitter
Latest Posts: