Presidential Candidate of African Action Congress (AAC) and owner of Sahara Reporters Online media, has criticised Alhaji Atiku Abubakar, presidential candidate of the People's Democratic Party, over his regretful remark on National Grid collapse.
According to SaharaReporters, Mr Sowore alleged that Atiku's concern over the National Grid collapse is nothing but a mere pretence, saying his regret is an insincerity taken too far.
The AAC presidential candidate said this when he responded to a tweet posted by Alhaji Atiku Abubakar on Thursday to show his concern over the persisting National Grid Collapse the country is battling.
In his tweet, Mr Sowore noted that if somebody will criticise the government or show concern over the Grid collapse, should not the presidential candidate of the PDP, who was the Nigerian Vice President when $16 Billion was invested on power sector without any commensurate results.
He stressed that Atiku also contributed to the problem of National grid collapse such a miserable national mess first started during his in government.
Mr Sowore stated further that Atiku's noise and pity for Nigerian for being in the dark is a pretence that could not be justified by any means possible, in as much as history has it that Atiku was a party to the failure.
Read below for an hot exchange between the two parties.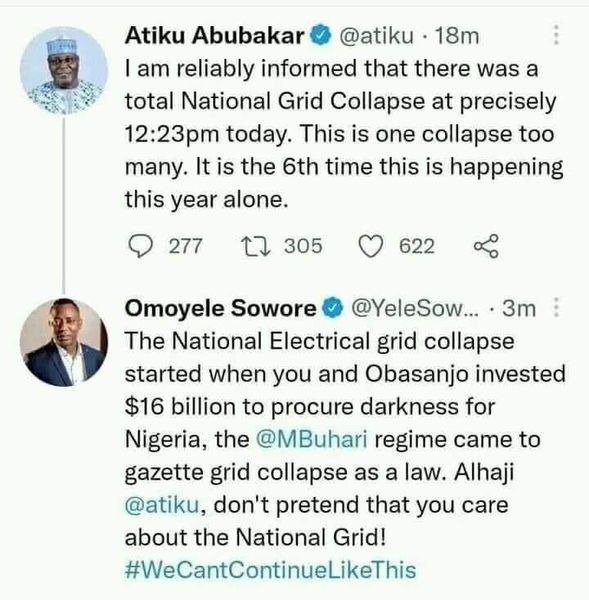 What is your take on this? Kindly like, comment and share.
Latest Posts:
For More News, Kindly Join Our WhatsApp Group, Follow us on Instagram and Like our Facebook Page. You Can Also Follow Us On Twitter